We are extremely proud of our donors, volunteers, and our long standing relationships with those who help us support our community. Our newsletter will spotlight stories of leaders and game changers whose Local Love and commitment to United Way Regina, inspires us to do more to serve the community we all call home.
Stewart & Gilda Graham are no strangers to supporting their community. While at a Rotary Club meeting, a few years ago, they saw a presentation about United Way Regina's Summer Success Literacy Camps. The needs of the students – both for literacy supports and vision care – struck them at the core, and it felt natural to support United Way Regina's programming.
That summer, they learned of one young student who needed specialized treatment to correct vision concerns. Concerned for the impact on her future should she not receive the care she needed, Stewart and Gilda covered the costs of her treatment. Since that first summer, Stewart & Gilda have continued to support the vision care aspect of the summer success camps, saying "It is really important that youth have a good start to life, this is one way we can help out to ensure they receive it".
They believe literacy is important for children; knowing that many kids in our community don't have the best opportunities to read or have books at home, it is important to help them improve their reading skills. Stewart & Gilda appreciate the chance to go beyond simply providing more books, supporting the vision program and partaking in reading volunteer opportunities.
Participating in our spring Vello session, Stewart had the chance to partner with a young student. "The young lad was trying really hard, and it made me feel good to chat with him and encourage him to read. It was a neat and enjoyable experience," says Stewart of the Vello session.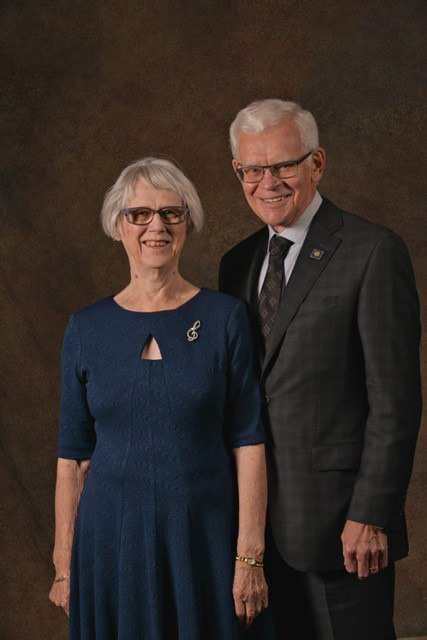 "I've been involved with United Way for a long time, and always felt they provide a very necessary and worthwhile support to the community – this is why we feel comfortable supporting your work and efforts," says Stewart.
"United Way Regina is doing a great job, and we are happy to be able to support you," adds Gilda. "There are many ways we can all give back and support others in our community; we encourage people to get involved however you can."
Community involvement takes many forms; volunteers come to us in many ways, and we love when our goals and the work of community members overlap. One such happy alignment brought us a fabulous new volunteer, and Women United member – Michelle Al-Katib.
We are honoured that she joined us for United for Change to remind us of the importance of childhood success and inspire us to action. Watch below to hear, in her own words, why volunteerism is an integral piece to the success of our youth.