Moose Jaw is a progressive City committed to building promising futures upon strong foundations. Together with our supporters and partners, we will work to break down barriers, improves lives, and create opportunities for individuals and families in Moose Jaw.
We know that education is the key to addressing poverty. When children are well-fed, well-rested, and well-supported, they are far more likely to succeed in school and in life. When we invest in our kids, those benefits stack up over time.  Students who graduate high school are more likely to find a job that pays a living wage, live healthier lives and give back to their community.
Summer learning loss, also called 'Summer Slide', occurs when a student's reading and educational levels decrease over the holiday. Low income students are disproportionately at risk  to experience summer slide if they are not engaged in reading, oral langue skills, and access to books. This slide is equivalent to two months worth of skill loss for each summer.
In Moose Jaw our Summer Success program helps young learners get on track with their reading skills. Focusing on literacy and reading at grade level by third grade provides students with skills necessary for engaging with their education through to graduation.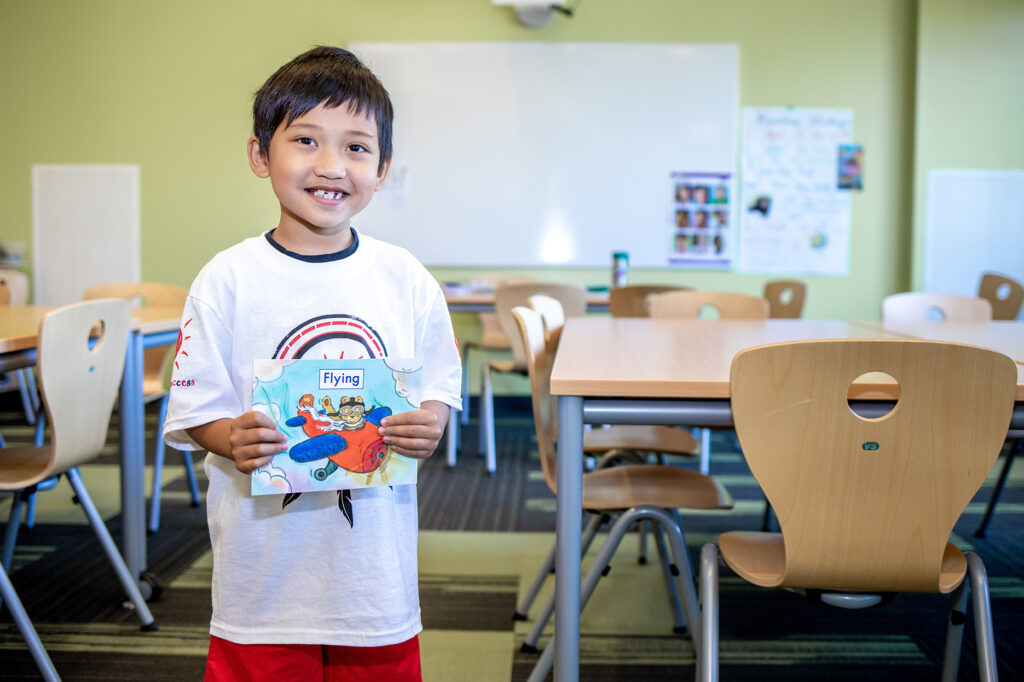 The Holy Trinity Catholic School Division is a proud partner in the United Way's efforts to deliver essential reading instruction to those students most in need via the Summer Success program. The United Way's ongoing commitment and perseverance was evident in the summer of 2020 as they worked tirelessly to research and procure Vello, a technology-based solution that enabled students in the Moose Jaw community to connect with volunteers while practicing their reading skills. Our lead instructor managed the program remotely and ensured academic integrity by linking student reading passages to their most recently assessed level. Parents of the students reported a high degree of satisfaction with the program and cited increased student engagement through their connection to an eager volunteer. Those same students demonstrated improved reading assessment results upon their return to the physical classroom in September. In short, the United Way's support helped improve the reading trajectory of these 8 students despite the most challenging of circumstances!
Sean Chase
Director of Education/CEO
Holy Trinity Catholic School Division
211 Saskatchewan is a free, confidential service that connects individuals with up-to-date information on human services in the province. By dialing 2-1-1, texting 2-1-1, or starting a web chat session at sk.211.ca, you can connect with a Service Navigator who will refer you to appropriate programs to address your needs. You can also search for services through an independent search online.
This connection to community, non-emergent health, and government services is available 24/7/365. 211 Saskatchewan is available to anyone, free of charge, and is always confidential. Over the phone, 211 Saskatchewan service is available in over 175 languages, including 17 Indigenous languages.
In 2022, the top needs reported from Moose Jaw callers were:
Basic Needs (19.3%)
Mental Health and Substance Use (19.3%)
Income Support and Employment (15.5%)
Health Care (12.0%)
Criminal Justice and Legal Services (10.3%)
Abuse/Assault/Violence (9.4%)
In 2022, 2.1% of all contacts (phone, text, web chat, email) to 211 Saskatchewan  came from Moose Jaw.